News
RE'13 presentation slides now available from the Downloads page.
Key Dates in 2013
July 15: Doctoral Symposium
July 15-16: Workshops & Tutorials
July 17-19: Main Conference
PUC-Rio
PUC-Rio is located at Rua Marquês de São Vicente, 225 in Gávea, in the South zone of Rio de Janeiro city.
It has two main accesses:
Rua Padre Leonel França – Main Entrance for cars and pedestrians (#8 on the map)
Rua Marquês de São Vicente, 225 – Entrance for pedestrians only (#9 on the map)
*** We recommend the #8 entrance as it is closest to the registration desk and it is easier to reach.***
When arriving at PUC, please go to the RE Secretariat located in the Cardeal Leme Building (#2 on the map).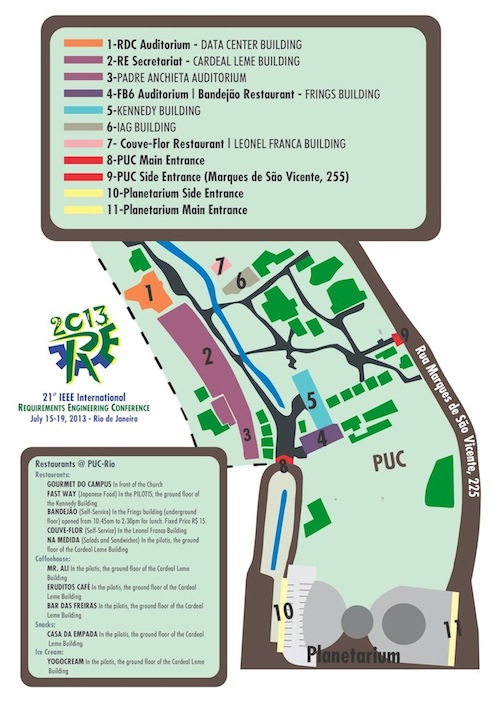 Ways to Get to PUC-Rio
By Shuttle Service
Please download the Schedule and Itinerary
By Taxi
Only use licensed taxis. You can pick up a licensed taxi from the many recognized taxi ranks around Brazilian cities. Take taxis at night to avoid walking along empty streets. Some licensed taxis that can pick you up anywhere in the city:
JB Taxi: (21) 2178 4000 // Pontual: (21) 3294 6650 // Taxi Golden: (21) 2589-0799 // Lagoa Taxi: (21) 2291-9734 // Taxibeat (Smart phone application – choose only well-ranked drivers): https://taxibeat.com/
By Subway (From Downtown, Glória, Flamengo, Botafogo, Copacabana)
Take Subway (metrô) line 1 (orange) direction General Osorio. You have to make a connection with the Subway bus (metrô na superfície) at Siqueira Campos station. From here, you will change to the Subway Bus – Direction GAVEA, with final stop at PUC.
By Bus:
From Leblon, Ipanema, Copacabana – Take Bus # 432 or # 435
From Flamengo, Botafogo, Humaitá – Take Bus # 157