News
RE'13 presentation slides now available from the Downloads page.
Key Dates in 2013
July 15: Doctoral Symposium
July 15-16: Workshops & Tutorials
July 17-19: Main Conference

Shuttle Service
Venue
PUC-Rio
RE'13 will take place at PUC-Rio, Brazil. A map is available with some relevant spots around our campus, including the nearby bus stops and lines. A more detailed map of the campus will be available in the conference program.
In the words of our International Cooperation Program Coordination, CCCI, "PUC-RIO is located in Gávea, a charming neighborhood near the forest and beaches of the Zona Sul area of Rio de Janeiro. Its campus is beautifully situated within a tropical forest, surrounded by lush trees and with a small stream running through it. Visitors and students can often see small monkeys and squirrels jumping among the trees.
Complete infrastructure and natural beauty!
Located in a pleasant and quiet neighborhood;
Large libraries with access to over 500,000 titles; There are 04 libraries on campus including the CENTRAL LIBRARY and a specialized library per academic center.
FREE Internet access provided (broadband and wireless);
Restaurants, cafeterias, bookstores and ATMs on campus;
Community service projects with underprivileged population;
Cultural center with art exhibitions throughout the year;
The PILOTIS, an open meeting area for concerts, political debates and fairs;
A large number of city bus lines make it easy to get to campus." [CCCI Living in Rio page]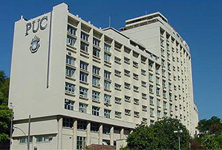 Leme building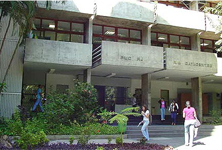 RDC building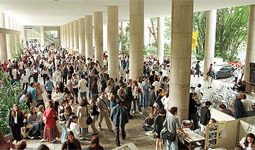 Pilotis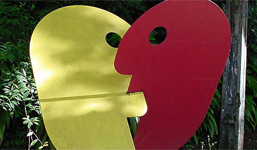 "The kiss" on-campus artwork
You can find some additional images of our campus at the PUC-Rio photo gallery [photos by Divisão de Multimídia do RDC].
Please take some time to check out our environmental agenda to see what we are doing to protect our campus environment.
The Planetarium
RE'13 plenary sessions will be held at the Planetarium nearby PUC-Rio.
Aerial view of the Planetarium
Planetarium's main entrance
Carl Sagan auditorium
Bus icon adapted from http://www.fasticon.com/.